A few months back, designer Veronica Sheaffer announced that she was retiring her retail line of gowns and focusing exclusively on high‐end custom work. To illustrate the quality and craftsmanship of her work and demonstrate shifting trends and her evolving aesthetic, Sheaffer will continue to show seasonal collections. The Fall 2015 collection is Sheaffer's first showcase following the announcement of the change.
Veronica Sheaffer's Fall/Winter 2015 bridal collection by  features four distinct looks that are inspired by a 1970s approach to 1930s glamour — Dahlia, a peach chiffon gown with dyed feathers accents on the shoulders, Delphinium, a halter neck gown with vintage Chantilly lace bodice and silk organza bolero, Elsa, a cap sleeve silk satin gown with polka dot skirt, and Flora, sequined pants + sheer peach organza top (shown above and below).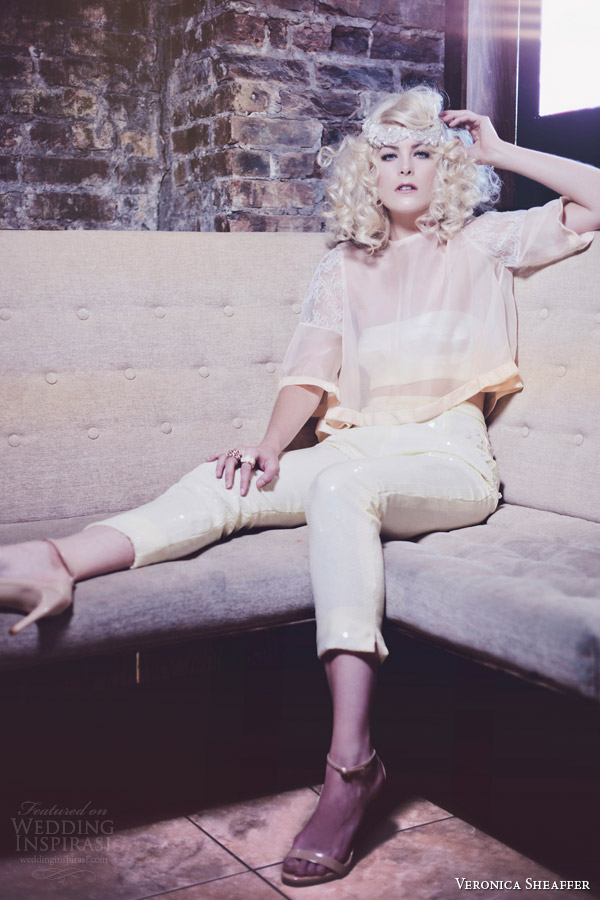 Can you believe it's already November? We still have many new bridal collections that showed at the New York International Bridal Week to share with you, starting with this beautiful one from Daalarna Couture. Daalarna Couture introduced their latest bridal collection, "Pearl" at the New York Bridal Market in October. These couture wedding gowns, designed by Anita Benes, are 100% handmade using the finest Italian and French lace and silk. The Pearl collection features designs that emulate the look and luxurious qualities associated with the precious gem. The white and ivory numbers are accented with pearl beading along the neckline, straps or waist. There are ensembles with lustrous silk skirts, and metallic lace gowns in a variety of iridescent colors.
Photos courtesy of Daalarna. For details, visit Daalarna."/>
In this interview with Wedding Inspirasi, Veronica Sheaffer talks about the inspiration behind her 2015 Fall/Winter bridal collection and the new direction for her brand.
Wedding Inspirasi: Veronica Sheaffer is focusing on custom-made gowns after seasons of ready-to-wear. What's the turning point for this shift?
Veronica Sheaffer: The two things I love most about bridal are making really gorgeous, special pieces and sharing in what is such an incredible and exciting time in someone's life. I was feeling disconnected from that, focusing on production on a much larger scale. The custom process allows us take time, make each element perfect for just one woman. It's so special. And it's emotional – it means something. I've felt so much more fulfilled since making the shift – it's very exciting.
Starting with Fall 2015, you will be doing seasonal showcase collections to illustrate your latest styles and techniques. It must be liberating to be able to present what is essentially "you" and not be bounded by retail-specific things like production costs and mass market appeal. What reins you back on from churning out, say, diamond-encrusted ball gowns with 100-ft trains?
You are so right – where do you stop when you can do anything? I'm certainly excited by the new-found freedom, but I still think it's important to edit and present pieces that will complement a woman, not steal the show. It's about the woman wearing the dress, not the other way around.
Black eyelash polka dots. Now that's something a little unexpected of a wedding dress!
What's the story behind this new collection?
I've always preferred style a little to the left of center, and this is certainly my opportunity to play. I was first drawn to the silhouettes of the 1930's, but took a more 1970's approach with the styling (and the sequins). The polka dots, while not necessarily a bridal look, are so graphic and bold, but the gown is still so feminine. It's such a cool combination. For so many women, their wedding is the most high-fashion moment of their life – they should feel free to play too.
How would you define the Veronica Sheaffer style? And who is the Veronica Sheaffer bride?
From the earliest age, I've lost myself in old pictures and movies, and that's what fashion is to me – an opportunity to transport one's self. I think it's so romantic pulling from the past but mixing in some modern coolness. And my brides want a designer to bring out what's most special and cool in them – it's not about finding something and copying it – it's about tapping into that bride and showing her at her very best. And quality is so important. We only use the most gorgeous fabrics, and we do so much by hand. It's sort of an old-fashioned experience, having a gown made, but my brides know they'll have that certain something that sets them apart.
My favorite part about being a bridal gown designer is…

The experience. It's not something to take lightly – being a part of this huge moment in someone's life – it's a time to cherish, and I'm very touched whenever I have the opportunity.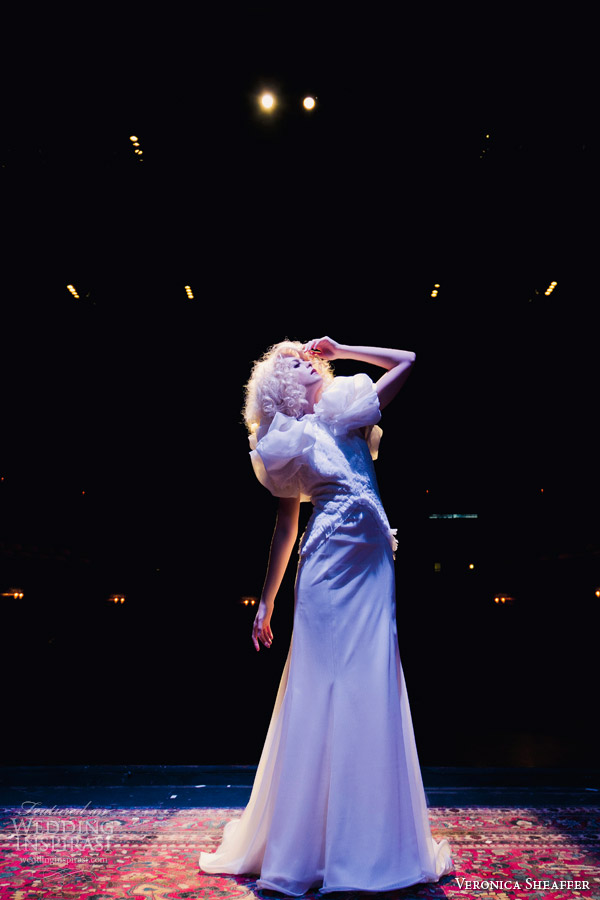 "/>
Gowns from $4,500, accessories from $400. For appointments and more details, visit Veronica Sheaffer.
Credits
Gowns & Accessories: Veronica Sheaffer | Photographer: Billy Rood | Hair/Makeup: Bridal Beauty Chicago | Model: Danielle Maddox