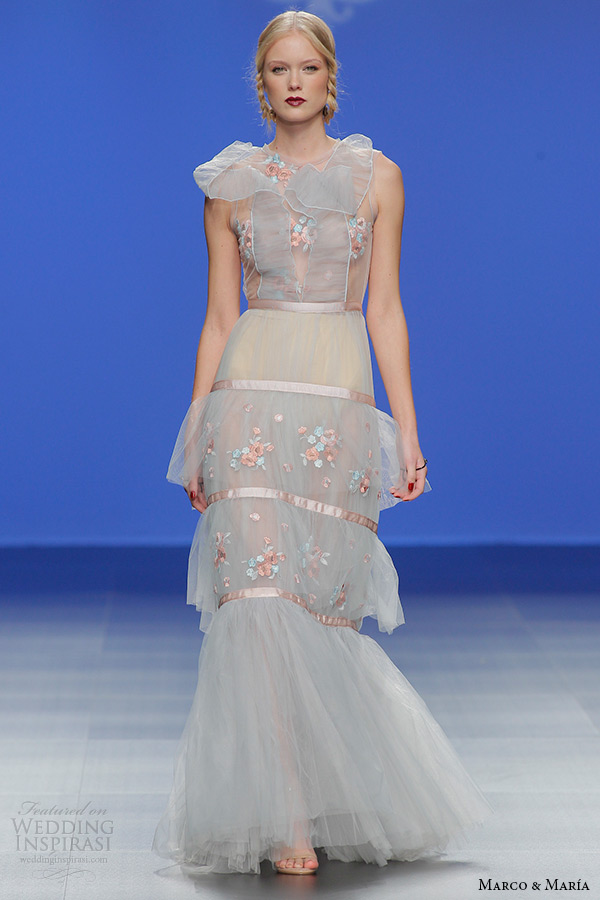 For the Fall 2015 Alvina Valenta collection, designer Jessica Williams was inspired by the energies of celestial bodies in outer space (including Jupiter, Pluto and our very own moon) and luminaries on earth: royalty, celebrity and the women who light up our lives. This ethereal collection features graceful silhouettes in dotted tulle, silk-faced duchess, French Alencon lace and corded lace, adorned with jewels, both delicate and striking. From the glamorous gold lace dress with a jeweled accessory evocative of the Sun to the romantic ball gown inspired by Venus, this collection is divinely beautiful!
Photos: Alvina Valenta. For details, visit Alvina Valenta."/>
Happy Monday! This week we're starting off with a stunning collection by Tenerife-based designer duo Marco Marrero and María Díaz. The 2016 Marco & Maria bridal and occasion-wear collection features a thoroughly modern take on mid-nineteenth century style. Powdered shades of blue, pink and champagne are used along with white and shades of ivory, beautifully presented using layers of sheer fabrics. Nods to tight-lacing and crinolines come in the form of ribbons crisscrossing bodices and highlighting skirt tiers. Dotted tulle, beading, embroidery, dyed feathers and delicate lace mixed with bolder acanthus leaf motif all come together flawlessly in this magical collection.
Photos: Marco & María. For details, visit Marco and Maria.