For "Papillon D'Amour", Kaviar Gauche designers Alexandra Fischer-Roehler and Johanna Kühl turned to the butterfly for inspiration. The 2015 Bridal Couture collection from the Berlin-based fashion label features sixteen chic and ethereal wedding dresses that encapsulate the exquisite lightness and sensual grace of the dainty creature.
"Because of its lightness and beauty, in Japan the filigree insect is regarded as a symbol of femininity, with two butterflies symbolizing wedded bliss. This idea was at the focus when the designers were creating their seventh collection. Kaleidoscopes of dancing butterflies were embroidered onto tulle, gracefully fluttering skirts and filigree floral motifs like the 'Lovely Lace' pattern from France were combined to provide the butterflies with a playground of love."
The Papillon D'Amour collection is hand-sewn and finished in Germany. A selection of Kaviar Gauches wedding dresses can be purchased online.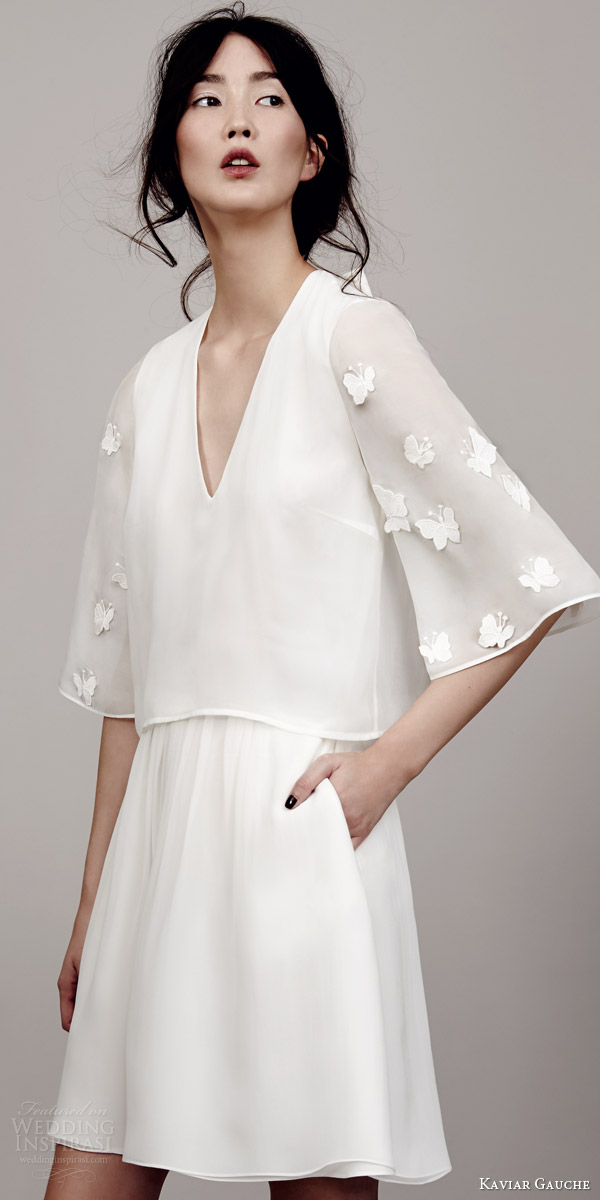 Ethereally elegant and exquisitely embellished, the wedding dresses in Limor Rosen's 2016 "Treasure" bridal collection are as delicately beautiful as the jeweled keepsake that inspired them: "Inspired by Fabergé eggs that were given as a gift to the Russian Tsars, this delicate work of beading, embellishments and lace combinations are as precise and thoughtful as the work of a jeweler setting precious stones. The feminine and flowing silhouettes remain delicate and light due to the sheerness of the fabrics and shades of ivory lace over nude and blush linings." Some of our favorites from this collection include Grace, which features a gorgeous lace crop top, and the lavishly beaded Daria cap sleeve sheath wedding dress.
Photos courtesy of Limor Rosen. For details, visit  Limor Rosen."/>
For more details, visit Kaviar Gauche.
Credits
Photographer: Cathleen Wolf